Sacred Heart Nursing Home Wins At Nursing Homes Ireland Care Awards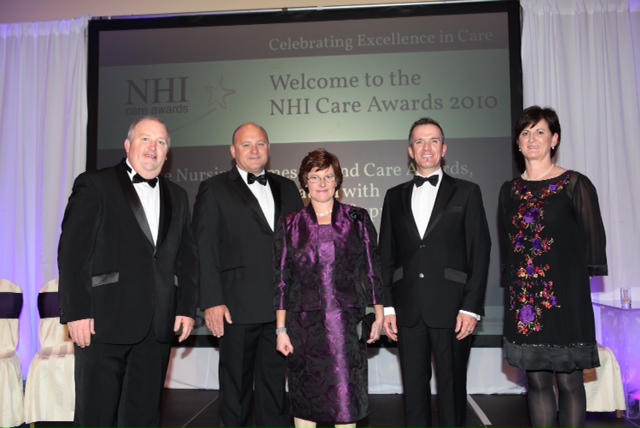 Residents, relatives and staff at Sacred Heart Nursing Home are celebrating following the announcement that Eleanor Norton of Graiguewood, Urlingford, Co. Tipperary had won the Ancillary Worker Award at the first annual Nursing Homes Ireland Care Awards in Association with Homecare Medical Supplies.
The awards were presented to winners by President Mary McAleese on Thursday, November 11th at a gala dinner attended by over 450 people in City West Hotel, Dublin. The NHI Care Awards are designed to recognise and reward the contributions made by those living and working in nursing homes nationwide.
Kay Finn, Director of Nursing in Sacred Heart Nursing Home is delighted that Eleanor Norton won this award. "Eleanor's love for her job is reflected everyday in her interactions with residents. There has been great excitement and expectation over the last number of weeks following confirmation that Sacred Heart nursing home has won the overall award in The Ancillary Worker award category. To win this award is a fantastic achievement for all residents and staff at Sacred Heart Nursing Home. We are all very proud of Eleanor, who always brings a smile to everyone's face."
President Mary McAleese addressed the attendance in advance of the announcement of the winners by the MC, well known TV and Radio Personality Ms Terry Prone
President McAleese stated "Good evening everyone, I am delighted to be here tonight at the Inaugural Nursing Homes Ireland Awards. I thank Tadhg Daly for inviting me to be a part of this important event which marks the achievements of people who rarely make the headlines but whose relentless work on behalf of Ireland's elderly citizens who are in residential care is being recognised tonight. So, tonight we are focussing on those whose special vocation of care is to the 20,000 of our senior citizens who are now in residential care. They and their families rely on people like our nominees to create a 'home from home', a place where they are nurtured, safe, contented, respected, treated with dignity, where they can socialise, make friends, learn new skills, practice old talents and live life to the fullest possible in a trusted place among trusted people. Our nominees are men and women who honour that trust by earning it and renewing it each day.
The past few years have brought significant challenges to this care sector. There have been heartbreaking scandals about neglect and abuse in some residential care facilities which have rightly provoked considerable changes in practice and in levels of accountability and oversight. For those who take this vocation as seriously as you do, there must have been days when morale was dented but you are the people who set the standards that do not falter, who deliver the first-class care we would all want for ourselves if we were the service users. So many nursing homes in this country are good places to be thanks to you and so tonight the spotlight falls on those who get it right, all day, every day and who will never settle for anything less".
President McAleese continued "I congratulate everyone who made the shortlist for that is an achievement in itself and a wonderful witness to our society of the good work that is done so quietly and thoughtfully every single day. To the winners of tonight's awards, I offer the warmest congratulations and hope that in the pride you feel, in the admiration your win has generated for you and your workplace, there is a deep sense of fulfillment and a vindication of all that you do to make each day the best you can, not for the self – but for other"
Tadhg Daly, CEO, Nursing Homes Ireland, stated, "The reaction to our inaugural awards has been extraordinarily positive and the standard of nominations was exceptional.
Valuing and acknowledging the highly skilled and dedicated individuals who work closest to our older persons in rewarding albeit demanding, challenging and specialised work is very important. They deserve the opportunity to shine and to have their invaluable work recognised and celebrated. That is why we have decided to create this annual awards ceremony. We believe there is a fundamental need for a standards-orientated annual awards system to recognise achievement and excellence in the Irish nursing home sector. The awards evening is all about celebrating the efforts and achievements of some as a way of recognising the commitment and dedication of all in the nursing home sector".
"The positive reaction combined with the huge numbers that attended the awards ceremony, have reassured us that our decision to celebrate the contributions made by people working and living in Nursing Homes was the right one. The awards will promote best practice within the nursing home sector and we are already planning next year's event." added Tadhg Daly
The attendance also included Minister for Health and Children Mary Harney TD, Dr Marion Witton Chief Inspector of Social Services, HIQA, President of the Irish Gerontological Society Professor Des O'Neill, Mr Robin Webster, CEO Age Action Ireland and representatives of a variety of stakeholders in older person's care including Alzheimer Society of Ireland and the Senior Citizens Parliament
Ends
For more information, contact Kay Finn, Director of Nursing, Sacred Heart Nursing Home, Crosspatrick, Johnstown, Co. Kilkenny. 056 8831318.
Editor's notes
Pictures of awards ceremony attached
The address by President Mary McAleese is available on the Presidents website
http://www.president.ie/index.php?section=5&speech=888&lang=eng
NHI Care Awards website
http://www.nhicareawards.ie/
Independent Judging panel
Prof. Brendan McCormack, Chairman of Judging Panel , Nursing Research & Practice Development, University of Ulster
Ms. Margot Brennan, PRO, Irish Nutrition & Dietetic Institute
Dr. Suzanne Cahill, Dementia Services Information Development Centre, St. James' Hospital
Ms. Mary J Foley , Vice President All Ireland Gerontological Nursing Association (AIGNA)
Ms. Mairead Hayes , CEO Irish Senior Citizens Parliament
Ms. Terry Prone, The Communications Clinic
Mr. Robin Webster, CEO, Age Action Ireland