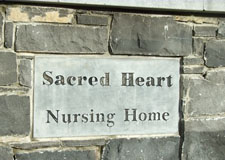 Sacred Heart Nursing Home is a modern 48 bed, purpose built nursing home. Situated in the heart of the countryside our philosophy is to create a 'home from home' for each resident and to care for every resident as one would for a parent.
Sacred Heart Nursing Home is a true example of a family run home and the influence of this can be seen in its renowned reputation for warmth and friendless. The proprietors of the nursing home Sean and Theresa Quinn are dedicated to the philosophy of person centered care in a homely environment. Their daughters Kay and Orla are also part of the management structure. Kay, a qualified public health nurse is the Director of Nursing and Orla, is a Senior Occupational therapist and a Dementia Champion. Both Kay and Orla bring a high level of expertise to the resident care having completed postgraduate training in gerontology care and Dementia care.  
We are located 2 kilometers from the village of Crosspatrick and approximately 3 kilometers from the towns of Johnstown and Urlingford in Kilkenny.

Thank you to Sean, Theresa, Kay, Orla, Gerry and all the staff at Sacred Heart Nursing Home for providing our mum with a caring and loving environment for many years. You all were such a part of her life and included her in yours. She loved her room and was able to see all the goings on which went by each day. Thank you for even the simple things like letting her pick out the pattern for the new curtains, that meant so much to her and she mentioned it often. Thank you for all the times you commented on her new outfits or new glasses, she loved that you noticed. I know she is up in heaven looking down on us all. God Bless.
Thank you for all the care and attention you have given to my brother over the past number of years. He was always very happy in your care and enjoyed the many activities on offer. I will always be grateful to the very kind and caring staff in Sacred Heart NH. There is a unique homely atmosphere in the Nursing Home and this is due to the dedication of the Quinn family and the dedicated staff. We have the highest regard for all of you.
Dear Kay, To express my gratitude to you, your parents and staff for caring so diligently for my dear mother. I take this opportunity to say a big thank you. I was able to leave her with a relaxed mind, knowing she was in very good, capable and vigilant hands.
"Many thanks for all the care and attention I got while I was here. The staff were so kind and thoughtful. The food was lovely and I am sorry to be going home. I would love to stay for another week or two."